I had the great pleasure and honor of doing a little Q and A session with Linda Bustos, principal author at
GetElastic
, one of my favorite eCommerce blogs. Linda is one of the sharpest knives in the drawer, so I really enjoyed the opportunity to pick her brain.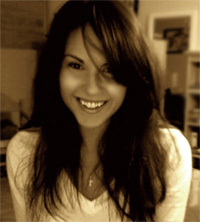 Linda Bustos
George:
What's the biggest change you've seen in the evolution of web design over the last 5 or 8 years?
Linda:
I think the best advancement for designers has been CSS (Cascading style sheets) and the move away from table based HTML. CSS opened up a whole new world in terms of website aesthetics, allowing designers to do things they could never accomplish with HTML. It also made it easier for developers to code and maintain a site, make changes to styling at a global level rather than page by page. Of course, this translates to a better user experience on the front end as well. Not to mention the search engine benefits of cleaner code. The move to content management systems is another important one, empowering the non-techie to update and maintain a website without waiting for (and paying for) a web developer to make changes. It also helped the web development industry as demand grew for CMS builds and integrations.
George:
How has social media changed the way
Elastic Path
thinks about eCommerce?
Linda:
We are often asked by our ecommerce software customers which Web 2.0 (social media) activities have the most impact for retail vs. what is just hype. That prompted me to write a post titled Top
Ten Web 2.0 Activities for Ecommerce
. I believe customer reviews should be a staple for most online stores, "entry level" social media, while tactics like Facebook and social shopping are lower on my list for impact. Though some retailers have had success with social networks et cetera, it's very difficult unless you're an established brand like Victoria's Secret or Zappos.
George:
That's been my take as well. Twitter and Facebook may be more valuable for public relations and responding to customer feedback than for driving sales directly. Pushing offers to followers seems like giving discounts to the wrong folks.
George:
As with paid search, it seems like the number of eCommerce platform providers has exploded over the years. In search it's a bit like the wild west, with some agencies charging outrageous fees for lousy service, and it seems like the same is true in your space. We had a plaform provider charge a client $20K to implement our tracking tags -- usually a half-hour project for a decent programmer. Are quality standards rising from your perspective? Price rationality?
Linda:
I can't speak for any other ecommerce platform vendors, but I can speak to Elastic Path and how we approach the situation. Our software leverages open source components and we actually offer source code to our customers. So if you'd rather use your own developers to customize the features that we offer in our core product than use our Professional Services division, you have that option. That's one advantage we have over some of our competitors who do charge a lot to make any changes to the code because it's proprietary and requires consultants trained in their product.
George:
You're so much nicer than I am! :-)
George:
Which of the newer features that have come out over the last year or so have had the biggest impact?
Linda:
I haven't seen anything "new" that is groundbreaking on the front-end in the last few years. What I think will have the most impact for retailers is A/B split testing, thanks to tools like the free Google Website Optimizer. This surely helps retailers make more money, but also helps customers on the front end as A/B testing will bring out which are the most clear value propositions, attractive offers, most usable designs and persuasive product copy.
George:
What's your take on product demo videos on product pages? Seems to me there could be a trade-off between page load speed and the quantity of stuff that can go on a page. The conversion rate hit because of slowness might outweigh the conversion rate benefit of the product demo.
Linda:
Totally agree, your piece on
tracking implications of page load times
is relevant as well.
George:
Are people adding these features just to "keep up with the Joneses"?
Linda:
I think that does happen all too often. Making design and merchandising decisions on gut feel, rather than using the data freely available through web analytics and testing tools is a real mistake. Unfortunately, I estimate that many if not most online retailers still don't have a dedicated web analyst, nor do they know how to extract insights from their data rather than just viewing pages of reports. Even fewer have web optimization teams that have a good process for testing and continual improvement. The retailers that do, however, have an advantage and the bright side is if you invest in these activities now, you can still have an "edge," which is harder to get in paid search and SEO anymore.
George:
Better conversion rates feed nicely into paid search efforts, too, as they allow for more aggressive bidding without sacrificing efficiency.
George:
Many folks seem to be ginning up conversion rates by slashing prices, and with the economy in the tank, many of our clients find themselves in brutal price/offer wars with their competition. Are there any secrets to staying competitive without having to give away the store?
Linda:
One of my favorite retail quotes is from
Kevin Hillstrom
. "Discounts and promotions are taxes placed upon brands for being unremarkable." It's tough to have a good value proposition in an online world – where there's so much transparency of alternative sites to buy from. But a clear and attractive reason why a customer should buy from you (at full price) rather than any one of your competitors is very important to keeping your margin. One of the most popular ways is to offer free shipping. But that's becoming ubiquitous and expected. So retailers are offering free overnight and free return shipping. And that doesn't help the bottom line either. Loyalty programs can be effective, as can incredible customer service (which prompts glowing word-of-mouth through social media). But perhaps the best way to stay competitive without discounting is to invest in conversion optimization. If you can convert more of the traffic you are already getting just by changing the site design, features and content, maybe you don't have to discount at all.
George:
Great points. It does seem like it's particularly difficult for SKU merchants. When you're selling the exact same product as your competitor, charging more is a tough, tough sell. Having superb customer service and fulfillment certainly helps, but those can't be marketing slogans -- they have to be real. Word of mouth is increasingly fast and powerful in this era which can be a blessing or a curse.
George:
Do you see anything new that could change the world of eCommerce?
Linda:
Mobile. Mobile commerce is not a new channel, rather a new screen that consumers are going to become more and more comfortable with. No longer do you need to be at your desk or at home to transact online. More people own a mobile phone than a personal computer, and people have their mobile devices wherever they are at all hours of the day. And new devices like Kindle and iPad make the user experiences on mobile devices much better than tiny smartphone screens. So ebusinesses will need to understand mobile design and usability for their websites and also consider what applications will be most helpful to their customers. We're not at critical mass yet, but we will be very soon.
George:
I recently had a terrific, candid discussion with Jason Spero of AdMob -- a mobile display advertising network that Google is trying to acquire. Jason said he'd been predicting the rise of mobile eCommerce for the last 10 years; for the first 6 years he was wrong, but now, he says, it looks like he may be right.
George:
How important is having a mobile strategy in 2010?
Linda:
The last 3 years have been dubbed the "Year of the Mobile" it seems – and mobile commerce has certainly grabbed the attention of the largest retailers. Every month we hear of Internet Retailer 500 companies launching new mobile sites, redesigns or mobile applications. While I still don't think customers are ready to purchase online through mobile sites (biggest reasons are fear of data security and usability issues), I think it's important for retailers to get their feet wet now to get over the learning curve. Having a mobile presence is also helpful for customer research on-the-go, and can be very helpful for customer service (think of order-tracking, back-in-stock and in-store pickup notifications, etc). Even if you don't drive sales through the smaller screen, it can add value to your business, especially if you're a multichannel retailer with brick-and-mortar stores.
George:
Linda, thank you so much for taking the time! Folks, this is a great opportunity to ask Linda questions, so fire away!